Once upon a time in a kingdom not so far away, a beautiful girl met a handsome guy, and they fell madly in love. A ring was bought. A knee was bent. A question was asked. And soon the kingdom prepared to celebrate a wedding!
In this story, the girl is my sweet sister, Allison and the guy is now her husband, Peter. (The cutie on their lap is mine) And I, as one of two older sisters of the bride, conspired to throw a shower my sis would remember forever!
I wanted to share with you the projects I worked on that made the most impact for the guests, but didn't necessarily mean dropping a lot of money. Here's how I did it:
1. Use their colors on thrift store items for a cohesive look. Our bridesmaid dresses were teal, and the flowers were purple. So I went with that. This is obviously not a new concept - but here's how I improvised and included them. I grabbed thrift store items I could use to decorate my mantel (the party was at my house) and gave them all a coat of spray paint to unify them.
One of the items was a charger - the kind that are always hanging around the thrift store and dollar store. I personalized it with their names, initial, wedding date, and location of their ceremony. If you aren't the painting type, use a stencil, stamps, or vinyl.
I also did a vase that I'd fill with fresh flowers for the party - the words I added with a white paint pen.
2. Use nature. This was an autumn shower, so when we went to the pumpkin patch to get pumpkins, gourds, and such for our house, we got a little extra for the front porch where all the guests would come in.
I set everything up nicely on the porch. And I added some flair - again a little paint and some ribbon.
I crafted a few other things for the front porch. You can see hiding in the background above a peek at one of my most favorite thrifted finds EVER. It's a giant stand-up chalkboard like you see outside restaurants on the sidewalk. I think it had a beer logo on the front. I spray painted it white and added some neutral bunting across the top, and we use it for everything! Shower, Thanksgiving, Christmas... so much fun. I looked online for ideas to make it a really fancy drawing... it turned out really cute. I wrote, "Old, New, Borrowed, and Blue. Allison's ready to say I Do! Welcome to the shower!"
People said they loved it!
I also used a plain grapevine wreath I had, and bought two black wooden letters for the bride and groom's initials at Michael's. I painted some white designs on them, and just tied them onto the wreath with black thread. I added a teal ribbon...and done.
3. Hit the Dollar Store, baby! I found spools of white tulle there, and grabbed some of my fancy champagne flutes. Tied tulle bows around the stems and added them to the mantel. I also used some jewelry I found at yard sales and stuck those on the bows. Looked wedding-y and cost almost nothing.
4. Make it personal. I was invited to the groom's hometown - shout out to Owensboro, Kentucky - for a shower and while I was there, I went looking for something from Owensboro I could use as favors. I found it at a fantastic local orchard where they make their own Apple Butter, which is divine.
I bought 6 big jars, and ordered small favor-sized jars online. I also ordered printed labels, and the day before the party, I decanted the goods into the jars. I loved having a piece of Peter there - it was so sweet.
I also did a quick sign to sit next to the favors, explaining what it was and why we were giving it out. It read, "Allison found something great in Owensboro, KY and so did we! Apple butter from Reid's Orchard. Please take one!"
The large jars the butter came in made perfect flower vases, and looked adorable. EEEK! I loved this!
The day was memorable, full of family and friends, good food, and LOTS of presents.
But most importantly, it was filled with love.
I'm so happy for my sister, who made a stunningly beautiful bride, and I hope you can use some of these ideas to shower someone you love, too.
XO,
Anne
Linking up here: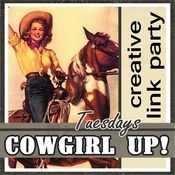 Cowgirl Up! Link Party